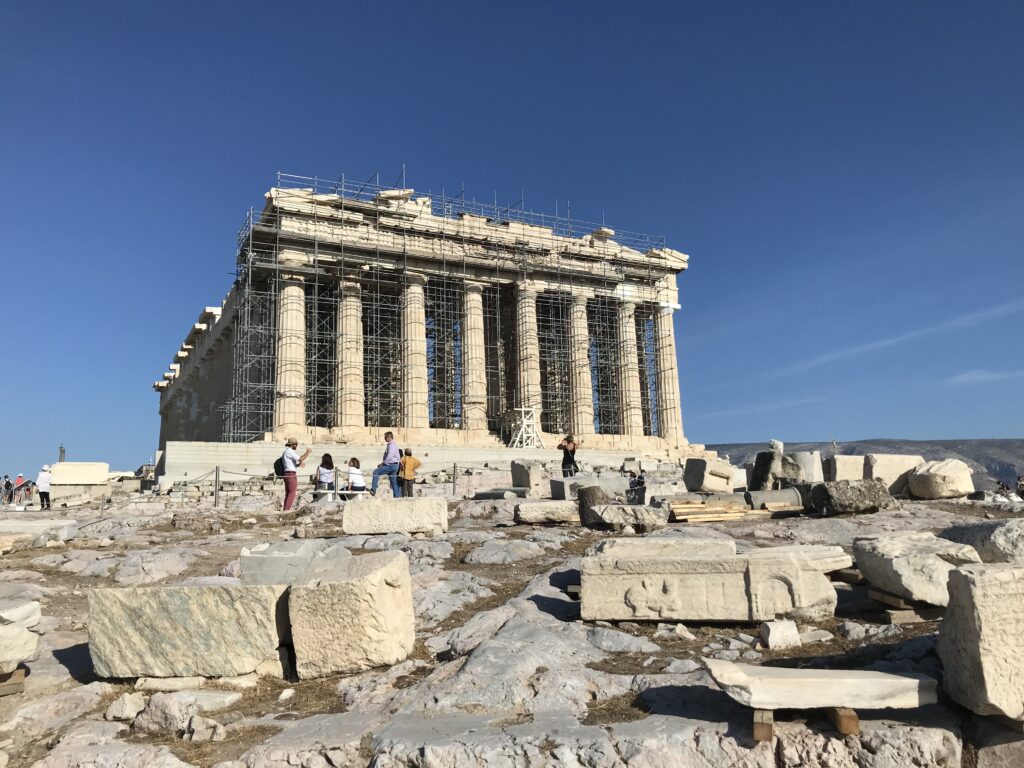 We spent a week in Greece in the picturesque Peloponnese peninsula as part of the PEALS Erasmus+ project.
The return of the summer was a delight for us, we enjoyed staying in the beachside town of Aigo and the other places we visited in the 30°C heat. The main theme of our project was sport, physical education and active lifestyle. Our programmes were organized around
these ideas, however physical activities weren't always the
cause of us sweating – it was the heat.
On Monday we spent half a day in the Park of the Nymphs among 2000-3000-meter tall montains where we tried horse riding, archery, cycling, riding a quad and so on. The park is rightly named after nymphs, these astonishing creatures of Greek mythology who represent beauty and fertility. They are connected to gorgeous landscapes, they're at home in the mountains, valleys, rivers and streams.
On Tuesday, we were a bit worried about the weather, because there was thunder and lightning but after a short shower, we had agreeable weather as we took the furnicular to Kalavrita gorge. This hike was breath-taking and at times hair-raising along the fast running stream in the gorge.
The highlight of the week was of course Olympia, the venue of the Olympic Games of the antiquity. Being there was truly an amazing feeling. The Olympic Games were held here once in every four years to pay respect to Zeus with religious and sporting events thousands of years ago. After a long pause which lasted for centuries, the Olympic Games became the basis of the modern Olympics, the sporting event we know and love today. We learnt more about religion, architecture, sports, ethics, art and history from an archaeologist. After this we visited Athens, where the modern Olympic Games are held. To be exact, we went to the venue of the 2004 Olympics which was memorable because of the programmes we enjoyed there and not because of the atmosphere of the place. Everybody tested their strenght, skill and courage at the professional wall climbing complex which was created in the place where the swimming competitions were held.
Since we were in Athens, we visited the Acropolis which was a fantastic experience thanks to our guides who were good at taking us back ca. 2500 years in time. The programmes and our days at the beach were great opportunities for us to become friends with the Czech, the Lithuanians, the Latvians and of course, with our Greek partners who were wonderful hosts.
Be brave and apply for the upcoming Erasmus+ projects because they are unique events which give you lifelong memories and experiences.